May 2021 – Product Newsletter
For the month of May, two new connectors, Segment and Gong.io, inspire more automations for RevOps teams, multi-step copy and paste across recipes boosts productivity, and our quest for connecting everything continues with the launch of SAP S/4 HANA, a secondary Okta connector, and private listings for connector community.
Catch up on all the news from our Product Showcase
Our first annual Automate Conference brought together thousands of our community members from all over the world to share skills and best practices for automating at scale. The Product Showcase sessions provided insights on the latest updates, roadmap, and how customers are using automations.
Automation Spotlight: XLSX to CSV to ERP in minutes!
Regardless of the industry or role we're in, working with Excel spreadsheets is an inescapable reality. These spreadsheets contain vital business data, but remain completely hidden and disconnected from the digital universe. Check out Gernot Reinmuller's post, where he shares how to bring Excel files into your digital processes with Workato recipes.
Announcing the Resource Hub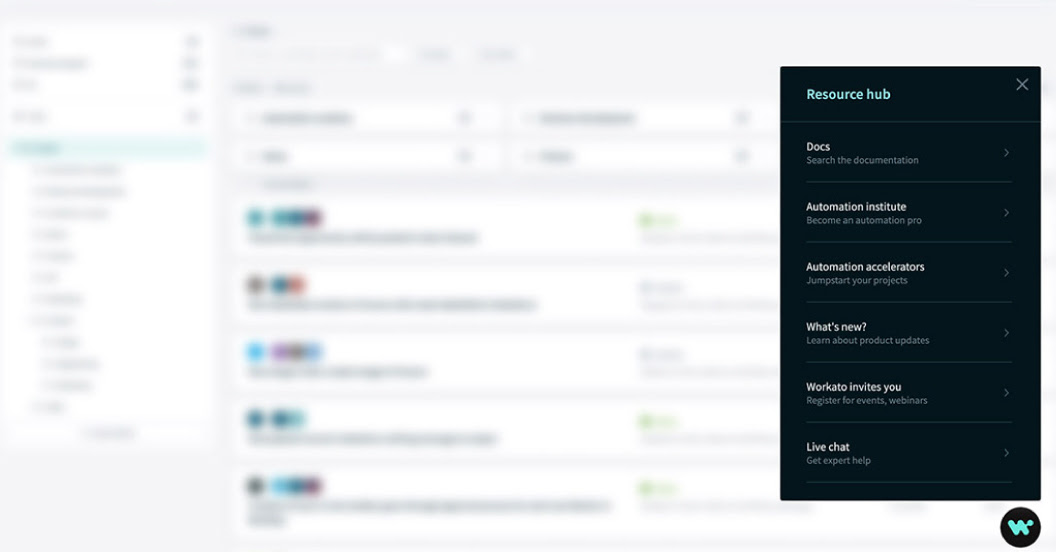 We're excited to launch the in-product Resource Hub – a single place to conveniently access your favorite resources. Search Docs, find latest courses in Automation Institute, explore Automation Accelerators, learn about product updates, get help through live chat, and more.
Product Hour: Best Practices for Designing Recipes II
Join this Product Hour to learn the best practices for creating recipes iteratively, considerations for optimizing usage of tasks and recipes, and using appropriate logging methods for troubleshooting.
Automation Institute: Getting Started with Workato PDF
Check out our guide to Getting Started with Workato. For new users, this guide is a must-have asset to start your automation journey. For old hands, it's a convenient cheat-sheet for reference when you need it.
Enter the Workato in a Minute video challenge!
As an Automation Pro, you know the ins and outs of the platform. Share your favorite Workato tip for a chance to win a $100 Amazon gift card and custom Workato swag. We'll also share your tip with the community through our Workato in a Minute video series.
This wraps up our May 2021 Product Updates. Any feedback or suggestions? Please send them our way at product@workato.com.
Get the best of Workato straight to your inbox.